I'm always on the lookout for new patterns with a vintage flare and i recently found some crackers!
I have wanted a Vivien of Holloway dress for a very long time. My budget thus far hasn't stretched enough for me to add it to my wardrobe yet however my little dress fund is slowly growing so maybe soon i will get it. After many minutes drooling over said dresses, i decided to go on the hunt for a pattern that would have the same feel as one of their dresses and i found this stunner! I just love the sweetheart neckline and i will be sure to flare that skirt out or even put a circle skirt on it.
I think it definitely has the potential to become a vintage inspired dress that could be suitable for day or night depending on how luxurious you want to be with your fabric choice.
I'm very excited about this pattern and i have been itching to make it but i haven't been able to get down to the fabric shop yet but as you can see i will be spoilt for choice.
I saw a Youtube video of a lady making up this pattern as a Betty Draper dress just couldn't resist hunting it down. A friends wedding is coming up soon so i thought i could knock up this beauty to wear for it. when it came, i got to look at the pattern in more detail and i can already tell that this pattern will be one that i make time and time again.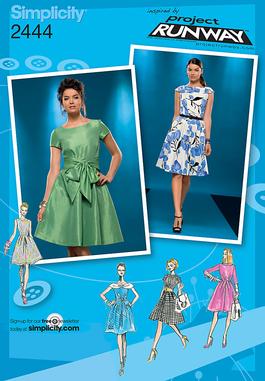 I love the little cape detailing, i think it looks very different to anything i have come across before.
I bought these two patterns on the
Sew Essentials
webite. They were having a sale so it cost me for both what it would have cost for just one at normal price. After all the tweaking and altering of the last dress i made from a vintage pattern it will be a refreshing change to make something that is a tad easier (lets hope). There are many patterns with a vintage style out there so for those of you that are starting sewing of thinking about buying a modern pattern; it's a great staring point.
Happy pattern hunting.