For a long time i have been an admirer of this beautiful lady. Forever stylish and wonderfully poised she bought elegance and grace to the silver screen and enriched the life of others in so many ways.
My love affair started with My fair Lady.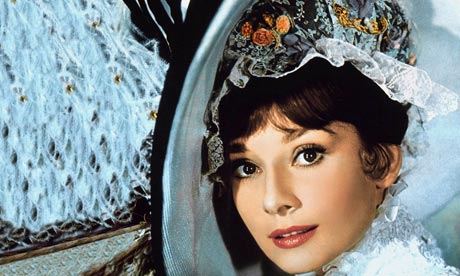 It remains a firm favourite of mine and i must make the confession that i do know all the words, to every song and whenever watching it i do sing along! But hey I'm not ashamed to admit it!
Roman Holiday is another one of my favourites.
The stories in these films often take you into a world that you wouldn't normally see. She brings a great humility to her roles and really makes you fall in love with the characters and their stories.
Last but not least no blogpost on our dear friend Audrey would be complete without mentioning what may be seen as her most iconic film, Breakfast at Tiffany's.
Her grace in this film can only be helped by her training in ballet as a young girl and the way she holds herself makes any girl jealous.
For me she helped me fall in love with vintage cinema and encompasses everything that a woman should aspire to be.
One of the best quotes of hers is this:
"I believe in pink. I believe that laughing is the best calorie burner. I believe in kissing, kissing a lot. I believe in being strong when everything seems to be going wrong. I believe that happy girls are the prettiest girls. I believe that tomorrow is another day and I believe in miracles."
Through her experiences in the war she was a great supporter of UNICEF and worked tirelessly in her later years as an ambassador for the charity.
As you can undoubtedly tell I really do admire everything about this wonderful woman and i hope i can incorporate a little bit of Audrey in my life.